For a next generation partner program, consider this first.
Limit the Ch-ch-ch Changes

At the risk of aging myself with a David Bowie reference, I understand you feel the need to change your partner program every year, allowing it to "grow up." As a partner program professional, that's your job, right? But before you designate new partner types, create new initiatives and/or alter partner incentives – examine why. Why are you changing the program? Is it to streamline your processes? To enhance the partner experience? To increase partner profitability? To make it easier to engage, empower and manage your partner ecosystem? What will make yours a next generation partner program?
Whatever the reason for program changes, consider it from the partner perspective. You want to enhance the partner program and model, yet partners want consistency and predictability. Your partners are investing money and resources developing a relationship with your company. They are learning your technology and building a business model around servicing customers who consume your technology. When you announce changes to how they engage with your company, you introduce uncertainty and risk to their business model. Don't change just because it's a new year and you think you should. This may be an odd recommendation coming from someone who makes a living designing and implementing program changes but hey, our motto is "Elevate the Impact of Partnering" not "Change the Impact of Partnering Yearly."
Only With Good Reason
One reason to change the partner program is to give your partners a better experience. We conducted a research study on the importance of the partner experience. Experience drives engagement and partner engagement leads to increased sales. And the reason you have a job in partner programs is to drive sales (or services).
Another good reason to update your partner program is to drive partner profitability. If partners are not growing a profitable business from selling, installing, operating, or managing solutions that involve your technology, they're either going to shift to a product where they can be profitable, or they're going to go out business. Either way, the partnership is over and you've both wasted time and money.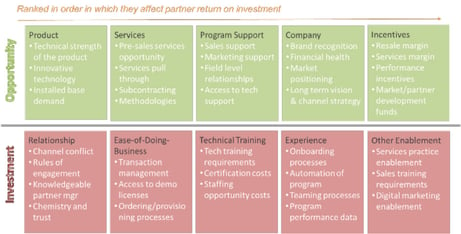 Partner profitability is calculated as return on investment. How much opportunity are you providing to partners divided by how much investment you require them to make? Opportunities are spread across product, services, program support, company and incentives. Investments take place in the relationship, ease-of-doing-business, technical training, experience and other enablement. [see chart] Unless you are growing the partner opportunity or shrinking their investment, thereby increasing ROI – why are you changing the primary framework for the partnership?
Timing Is Everything
If you are going to make changes to target a next generation partner program, give your partners lots of notice. I mean LOTS more than you do now and 50% more time than you think you should. Your partners are making decisions that will affect the next 3 to 5 years of their business. Decisions such as: whether to hire and for what roles? Whether they should invest resources in building a services practice around your technology? Should they create a repeatable solution for a micro-vertical with your products? All these decisions have multi-year implications on the profitability of their businesses. If you're going to change the requirements or benefits of the partnership, provide lots of notice, and possibly a visionary roadmap, so your partners can make informed decisions.
You should also consider whether to make changes slowly, dripping out new initiatives and processes, or rip off the band-aid and restructure the partner program all at once. The bigger the change, the more notice you need to provide. I know you think it makes you look ineffective if you announce sweeping changes then take years to implement them. This isn't about you. It's about the partners and the investments they're making in a profitable business that involve your technology. If you think you're insignificant to the partner's overall business model, then what you do with the partner engagement structure doesn't matter. But hopefully that's not the case, at least not with all your partners. If you're providing good value to your partners, you ARE important to their business model.
Incorporate Next Generation Partner Program Trends
When you do decide to make program changes – because let's be honest, we both know you will – try to incorporate next generation partner program trends. Incorporating these trends will help you future-proof your programs – so you can make fewer changes in years to come.
Segment the partner ecosystem by the role partners perform through the customer journey (such as influence, develop, sell, service) instead of by type of partner (VAR, ISV, Consultant, SI).
Differentiate partners based on their capabilities. Remove an assessment of good, better, or best partner from external communications or branding. Customers don't know if Gold, Platinum or Titanium is the top level and they only care that the partner has the skills and experience to successfully produce the desired business outcome.
Consider a framework where partners earn points for defined activities along the customer lifecycle, and they can spend those points on benefits that align to their business model.
Expand incentives outside of the transaction to other stages of the customer lifecycle, motivating partners to drive post-closed won activities and early lifecycle stage activities such as identifying needs, performing discovery, managing evaluations.
Understand a partner's ROI to ensure partner profitability. It's hard, but do the math to calculate their overall investment in your technology, the length of the sales and services cycle, time to break-even on their initial investments and average yearly ongoing profitability.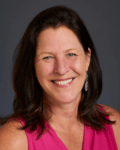 Read the data and insights on these trends from our study and if you need help designing your next generation partner program, please contact us – we'll make sure you're making the right changes at the right time.
Diane Krakora is CEO of PartnerPath with over two decades of experience defining the best practices and frameworks around how to develop and manage partnerships.