The primary goal of vendors focused on recruiting and onboarding partners is to identify and engage new types of partners. These are organizations that aren't traditional IT solution providers and yet have influence in cloud-based technology solution purchases. Jay McBain of Forrester calls them shadow channels as they aren't engaging with customers or vendors in the traditional way. We at PartnerPath take a bit more positive nomenclature and call them next-generation channels.
What do partners call themselves?
As diverse types of organizations become channels to the new buyers of cloud-delivered solutions, vendors are realizing the need to restructure their partner programs to be open to these next-generation partner types. Technology vendors could see organizations such as marketing agencies, consultancies, financial advisors and even insurance agencies influencing the technology buying decisions of the customer. These new channels might wield enormous influence in the technologies and even brands the customers purchase, but likely won't manage the final transaction. That's just fine with tomorrow's buyers of cloud-delivered technology. They're comfortable transacting directly with the vendor.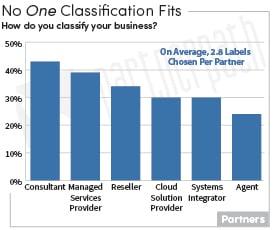 To test how this shift to new business models is progressing with our traditional channels, we asked the solution provider respondents* to classify their business models. They identify with several of these labels – 2.8 on average. The top choices show a transition of this ecosystem to new business models that are more focused on services than reselling. The label Consultant won out over the rest of the terms, with Managed Services Provider a close second. Reseller and Systems Integrator, which were in first and second place just last year, fell to third and fifth. Cloud Solution Provider is an up-and-coming hot term.
At PartnerPath, we continue to struggle with the future relevance of these terms and tend to bundle them all into the general bucket of 'Solution Provider' since these companies provide full solutions to customer business needs. The IT industry is starting to segment the partner ecosystem by business model – what the partners do with the customer (resell, refer, integrate, service, develop, etc.) instead of by these labels. Think about classifying partners with a verb (action), instead of a noun (label). It's a subtle shift and solution providers will no doubt still select multiple business models (verb) as they perform multiple actions like integrating systems, consulting and reselling all for the same customer.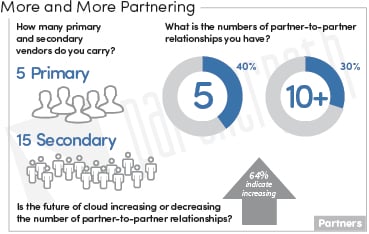 We also see these solution provider partners developing more relationships with other solution providers. 40% of the solution provider respondents have built relationships with five other solution providers. And 30% of them have relationships with more than ten other solution providers. This is a double-digit increase from the 2015 study. 62% of this year's respondents expect cloud solutions to increase the number of other solution provider partners they work with. Developing a full solution that produces an outcome addressing a customer's specialized need is challenging work. It might take a dozen various products that work together, and assessment or advice services and potentially monitoring and solution management to produce the desired outcome for the customer. Increasingly, that means solution providers need to work together to get access to different product lines (versus signing up to be in the vendor's program themselves) and to contract the technical bench strength to design, develop and implement these complex solutions.
They are also working with more vendors than ever before. Solution providers carry five primary vendors and fifteen secondary vendors on average. That's a 50% increase from the 2015 study. They also report reducing their vendor partners at an average rate of 10% a year. We hope we can help you become (and stay) one of their top 20 vendors.
Why do solution providers regret joining a vendor program?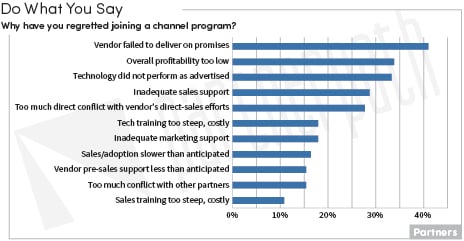 If you forget all about these trends, data and action items, MAKE FEWER MISTAKES in fostering your partner ecosystem by providing 1) a product that works as advertised, 2) a way for partners to make money and 3) the ability to work together well (ease of doing business). Two pieces of data always demonstrate these big lessons.
First, look at the list of top five regrets solution provider respondents have for joining a vendor's partner program. Yet again owning the top spot, "Vendor failed to deliver on promises" continues its eight-year-reign (out of nine!) as the number one regret partners have for joining a vendor's channel program. There is no excuse for this being anywhere near the top of the list. The easiest thing a vendor can do to create a solid partnership is: do what you say you're going to do. If you say you're going to launch a new deal registration program aimed at minimizing conflict around services – do it. The problem boils down to the simple act of communicating expectations and commitments with partners – followed by doing what you say you're going to do.
The next three reasons partners regret joining a vendor's partner program are difficult to solve solely within the channels team. These three regrets require a cross-functional coordination between sales, finance and product teams to ensure the ever-widening partner base can successfully recommend, configure and support your products. This effort could and should be spearheaded by the channel team. Take up the mantle for your partners and fight the good fight within your organization on their behalf. They are your commission-only sales team – help them be successful.
The fifth regret, direct channel conflict, can also be minimized with clear expectations and communications. Vendors should first state where they will focus their efforts and where the solution provider will have a green field of 'clear run' to minimize the times you bump into each other. We are seeing more and more channel conflict around the services opportunities in an account as both the solution providers and the vendors want to cash in on the lucrative services. Clearly communicating expectations and rules of engagement around services opportunity will be paramount in the coming years.
Look for more data on how to empower partners in cloud solutions in an upcoming blog.

*This blog is an excerpt from the PartnerPath 2019 State of Partnering report: Driving Cloud Adoption using data gathered from 100+ vendors and 200+ partners in our annual State of Partnering study. More excerpts will be published in coming months. Be sure to subscribe to our blog below!