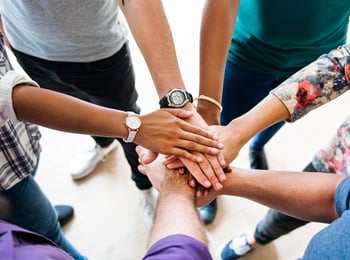 To capitalize on the growing cloud market and drive solution providers to resell cloud solutions, leading vendors are investing heavily in empowering their current partner ecosystem and finding new cloud-focused partners.
What are the vendors' key priorities?
The vendor respondents'* top priority for growing and managing their partner ecosystems is to recruit and onboard new partners. Of the vendors eager to recruit, over 50% of them are looking for born-in-the-cloud solution providers and on average, they're hoping to recruit and onboard about fifty of these partners in 2019. Systems Integrators and Managed Service Providers also top the list of the types of partners prioritized to recruitment and onboarding in 2019.
Increasing partner sales competency in cloud is also a priority for the vendors. Sales are the lifeblood of any business and one of the key reasons vendors engage an indirect channel. We often call an indirect channel a commission-only sales force. In cloud models, sales are more important and less important at the same time. Sales capabilities are more important than technical know-how in cloud – as the technology is often delivered directly from the vendor with less implementation and customization needs than on-premise gear. At the same time, maintaining a customer through adoption, usage, growth and renewal is just as important as the initial sale. Profitability in cloud models comes from growth and renewal, not just the initial license purchase. For example, if a customer bought 100 licenses for a one-year subscription and they only used 20 of those licenses, they aren't going to renew the 100 licenses. You'd be lucky to hang on to 20 licenses versus the customer looking for a solution they'd use more. The marketing and sales costs of acquiring that customer are lost if the licenses are not renewed. So, although sales competency is a priority across the board – for vendor and solution provider respondents – so should be customer satisfaction and usage.
How can vendors increase the solution provider ROI?
The solution providers* gave us a very clear breakdown of how they want vendors to invest to help them grow sales (and profit) opportunities and also reduce their cost in working with vendors in a cloud model. This is expressed as a return on investment calculation. The numerator is the opportunity the solution provider has to grow sales and the denominator is the investment they need to make in their vendors.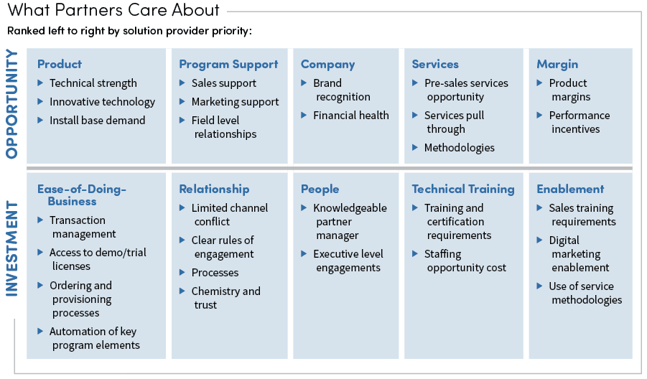 The items in Opportunity are ranked in order of importance to the solution providers' success with cloud solutions. It's no surprise product is ranked the most important. If the product doesn't work as expected, the customer is going to be unhappy with the solution provider who recommended and configured it. What is surprising is margin and services nearly tied for the least important elements. Our last three yearly reports have highlighted that services opportunities are important to solution provider profitability. And who doesn't like more margin?! In talking with partners, they explained that yes, these are all important elements to their overall success in cloud, but these two are less significant in a relationship with any one vendor. In a multi-vendor solution that addresses the customer need, the product technical strength, sales support, field relationships and company brand are more impactful to success than the services or margin tied to any particular vendor or product.
Ease-of-doing business was the top-ranked element solution providers would like vendors to focus on to reduce the partners' overall cost of working with the vendors on cloud. They are basically saying it doesn't matter how great the people are, how robust the training and enablement is or how seamless the relationship is if they can't transact business. As we saw in the 6 Pillars of Partner Experience report, the people and the relationships they form are critically important to solution providers' overall engagement – but they still need to be able to conduct business.
The solution providers understand they need to invest in the overall relationship with their vendors. They are prepared to make investments in technical training and enablement. They realize these commitments help them provide better solutions and services to their customers. There is a plethora of investment needs pulling on solution providers from various areas of their business: cloud models, solution development, new people, digital marketing, line-of-business sales, developing IP, new vendors, training and enablement. These all draw on limited time and investment dollars. Whatever vendors can do to limit solution provider costs to engage is appreciated. That appreciation turns into participation, loyalty and increased sales.
This chart above demonstrates that if a vendor had money to help grow solution provider success it would be best spent around the program support, ease-of-doing-business, people and relationship. There isn't much the vendor partner team can do about the technical strength or innovation of the product. Typically, the channel team is given the product and told to get partners to sell and support it.
What are the partner program priorities?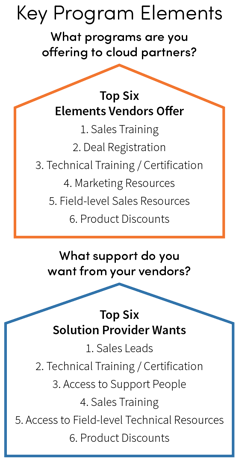 The commitments to training and enablement are further solidified when we look at the program support the solution providers want from vendors. Of course, sales leads top the list of desires. That aside, the solution provider respondents prioritized technical training and access to technical resources – in the field or support teams. These are elements that help them create satisfied customers. Even in cloud models, the solution providers prioritize understanding how the technology solves customer problems and getting help when they need it.
The vendor responses of what elements they provide to cloud partners is a bit more skewed to sales. Four of the top five responses from the vendors were sales-focused: sales training, deal registration, marketing resources and field level sales resources. The program element of technical training and certification landed right in the middle of the top five responses. Surprisingly, product discounting was sixth on both the solution provider wants from their vendors and what program elements the vendors offered their cloud partners.
Look for more data on how to empower partners in cloud solutions in an upcoming blog.

*This blog is an excerpt from the PartnerPath 2019 State of Partnering report: Driving Cloud Adoption using data gathered from 100+ vendors and 200+ partners in our annual State of Partnering study. More excerpts will be published in coming months. Be sure to subscribe to our blog below!