For the last decade, an agent model has been the easiest way vendors had to engage solution providers in cloud offerings. The shifts a cloud business model demands in marketing, sales, compensation methods and customer success are difficult for both vendors and solution providers. Thus, a simple referral or an agent model was a quick win for vendors looking to gain awareness of their cloud offerings. There isn't enough margin available in a referral deal for the solution providers to be profitable long-term so we've seen growth in other solution provider roles in cloud models.

What are solution providers selling?
Not surprisingly, software as a service tops the list of cloud solutions the solution provider respondents* are selling. Software as a service (SaaS) remains the largest segment of the cloud market, with revenue expected to reach $73.6 billion in 2018. Gartner expects SaaS to reach $117.1 billion and 45% of total application software spending by 2021. "In many areas, SaaS has become the preferred delivery model. Now SaaS users are increasingly demanding more purpose-built offerings engineered to deliver specific business outcomes." (Sig Nag, research director at Gartner.)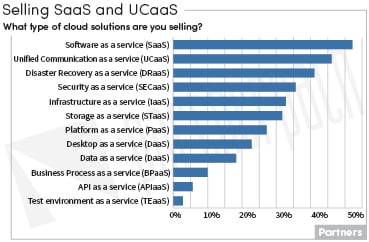 It is interesting how many solution providers indicated they are selling disaster recovery as a service and security as a service which followed closely behind the expected unified communications as a service offerings. The thought-provoking data is that more solution providers indicated they are selling disaster recovery and security as a service than the well-hyped infrastructure as a service and platform as a service. Gartner predicts the fastest-growing segment of the market is cloud system infrastructure services (infrastructure as a service or IaaS), which is forecast to be the second largest segment at $83.5 billion by 2021.
32% of solution provider respondents indicated they are selling storage as a service, which is nearly equal to the number of solution providers indicating they're selling infrastructure as a service. It's a little disheartening so few solution providers indicated they are selling business process as a service since it's a growing services market which Gartner estimates will reach $58.4 billion by 2021. This is indicative of the solution provider audience we survey. They are primarily traditional partners who are now selling the technologies they've known and loved for decades in an as-a-service offering. They haven't yet fully adopted pre-sales or business process consulting services, so it's understandable they don't claim these as part of their cloud-based offerings. But there is a growing number of born-in-the-cloud solution provider partners who respond to our surveys and offer a wider range of cloud-based solutions. We expect to see these numbers increase in the coming years.

What role are solution providers playing?
Aligned with the Gartner as-a-service growth predictions, for years the vendor respondents have indicated they primarily expect the solution provider ecosystem to offer technology solutions as a managed service. The partner purchases the product from the vendor then uses it to provide the solution to the customer on an outsourced managed basis. The key here is the solution provider is the purchaser and retains title of the products. Since they're not reselling the product, the solution provider bears the cost of the products involved in the managed service in addition to the services expectations of the end customer.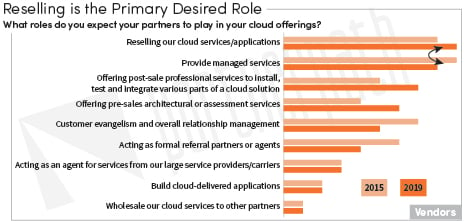 Four years ago, the vendors' expectation for partners to offer managed services barely surpassed the reselling motion. But this year, the vendor respondents prioritized the solution provider role of reselling cloud services ahead of providing managed services. The solution providers' priorities are flipped. They make more money on managed services than they do in reselling cloud offerings. The vendors are pushing reselling motions, but the solution providers ranked managed services as the highest gross profit margin offering with cloud resale around the middle.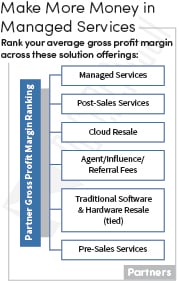 Since our 2015 study, the vendors increased the priority of both post-sales professional services and the pre-sales architectural or assessment services. Solution provider margins on products, whether traditional or cloud resale, are shrinking. Thus, the solution providers are pushing into more services which provide higher margins and greater profitability. They ranked post-sales services as their second-highest gross profit margin offering. The pre-sales services were ranked as the lowest. We will see those margins increase once they learn to charge for the advice, consulting and design services they currently tend to give away to secure the product purchase.
Vendors are ahead of solution providers in adopting customer success management and the vision of an ongoing customer lifecycle. Most solution providers have traditionally trusted their customers were going to stick with them for life. In fact, many solution provider business models assume they will continue to sell new products and solve new needs for their current customers. Therefore, solution providers have been slow in adopting and formalizing customer success roles. It's understandable the vendor respondents wanting to take back customer evangelism and overall relationship management from the expected partner roles in a cloud offering – ranking it much lower than four years ago. But the partner puts together the overall solution and is often the face to the customer and the one-throat-to-choke if there are issues. It's unlikely the solution providers will readily hand over customer relationship management though they will need to step up their customer lifecycle policies, processes and people.
The referral or agent model has decreased in importance for vendors, falling from fourth to sixth priority in the last four years. And although most of the solution providers still engage with a few vendors as referral partners, they rank that activity near the bottom of what produces gross margin though it's still above traditional software and hardware. They'd prefer to take the referral fees which require low sales and support investments rather than slog through the traditional resale process which can include arduous amounts of training, certification and support requirements.

*This blog is an excerpt from the PartnerPath 2019 State of Partnering report: Driving Cloud Adoption using data gathered from 100+ vendors and 200+ partners in our annual State of Partnering study. More excerpts will be published in coming months. Be sure to subscribe to our blog below!