At this stage of the Partner Journey, Experience, the partner is now engaging in a relationship with the vendor. The on-boarding begins with initial communications, training and introductions to field sales teams. But the experience doesn't stop after the first 30-, 60- or 90-day steps. It encompasses all the interactions a solution provider has with a vendor, including people, communications, infrastructure systems, program elements and business planning and review meetings.
The solution provider respondents rated the experience between 'extremely important' and 'critical' to their ongoing relationship and success with a vendor. Partner experience drives partner engagement and the better the experience, the better the engagement. Vendors need to give their partners the best possible experience with their company to ensure a position as a primary vendor, their preferred vendor.
Below is an abbreviated version of the partner experience data collected in this year's State of Partnering study*. Download the full report to read the data in its entirety.
#1 People
How do vendors foster the people, the most important pillar of partner experience, involved in the partner relationship? Sometimes, not well. While the partner manager plays the point person in the relationship, most of the engagement between a solution provider and their vendor is at the field sales level. Several of the vendor respondents did not compensate the field rep for partner-closed deals, and of the vendors who did, half indicated partner-closed deals retire a field rep's quota based on partner cost (what the partner pays for the product). This generates a bias in the field team against the channel.
Most of the vendors indicated they provided partners access to support people through the general support portal/line as if they were a customer or through their main channel manager contact. This is ineffective and frustrating for the solution provider because a trained (and likely certified) partner must wade through the first- and second-line support questions to get to the third-line person who can answer the question.
#2 Infrastructure
It's no surprise infrastructure systems ranked second in affecting experience, as our data shows that with the proliferation of portals, deal registration tools and Partner Relationship Management systems, 80% of partner engagement with a vendor is through electronic means. And the partners like it that way. But nearly half of the vendor respondents indicated they spend less than 2% of their channel budget on partner management systems.
#3 Enablement
In the past couple of years, enablement has slipped into the third priority for partners. But how vendors enable partners still has a huge effect on their experience, engagement and ultimate success. While enablement can include everything from business model transformation to marketing support, here we focused on the classic definition: competency to sell and support the product.
Other than product discounts, vendors spend most of their budgets on solution provider enablement. So we asked where they thought their partners had the greatest need for enablement. Over two-thirds of the vendors indicated their partners needed more enablement on selling the value and differentiation of their products. The vendor respondents have chosen this as the greatest need for partner enablement for the past six years (since we started including it as an option) and it is hooey. Solution providers are already engaged in sales akin to the vendor's products – either complementary or competitive – and have more experience than vendors acknowledge.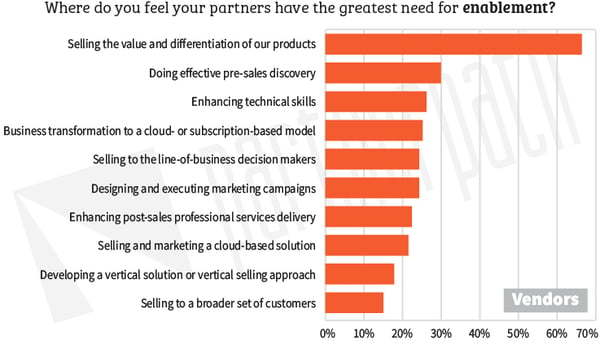 #4 Engagement Model
The partners ranked the engagement model options fourth in importance as it relates to their overall experience with a vendor. Partners may resell, refer, act as an agent, develop technologies, embed products in their solution/services or consult on policies – or any combination of these models. This element of experience will be even more important to solution providers as their business models evolve with cloud consumption. As the current financial rewards of discounts/margin on product sales evaporate in a cloud model, other engagement options become more important. Since most solution providers will, or already do, have some portion of their revenues and profit coming from at least two different engagement models, partners will continue to prioritize vendors with flexible models and options.
#5 Program Policies
Program policies have less effect on partner experience than most channel people think. These elements are not unimportant, but they're transparent to partners. For example, 63% of the vendor respondents indicated they provide co-marketing funds to qualifying partners based on initiatives and 37% provide funds based on the partner's sales volume. Partners want to know how much money they can access, the expectation for pre-approval and the claiming processes. They don't care how the funds accrue.
Access to support was one of the key criteria solution providers evaluated in the earlier Consideration phase, so we looked at what the vendors offered (or required) for services and support. Most of the vendors reported partners sell their own support offerings and/or resell vendor-branded support. The challenge is, many of the vendors expect partners to be certified to offer even their own professional services around the vendor's product. What right do vendors have in dictating what qualifications a partner must have for offering their own services and support to their end customers?

#6 Performance Metrics
Although performance metrics ranked lowest of the partner experience elements, it's still vital. Both vendors and solution providers need metrics to measure improvement. 63% of the vendor respondents indicated they measure the success of their partners on year-over-year sales growth and 43% measure net new customers. Both of those are fine metrics to have on individual partners and the ecosystem. However, only 18% of vendors indicated they measure the satisfaction of their partners' customers and only 7% measured partner satisfaction. In an industry where we obsessively measure the customer experience, journey and satisfaction, having less than 10% of the vendors measure partner satisfaction is disheartening.
Subscribe to our blog to keep learning about the Partner Journey. The final stage is: Growth.
*In December of 2017, we surveyed 104 vendors and 220 solution providers on the people involved, priorities and expected outcomes of the partners' journey.
---
Tips for your program:
Prioritize the partner experience
Create a yearly study where you measure the partner experience across these six elements. The first year will give you a baseline and then you can put initiatives in place and plot your improvements.
Compensate your teams to drive desired behaviors. If your field sales team should be working with partners on opportunities, their compensation needs to be adjusted accordingly. Retiring quota on partner cost, versus sales price, penalizes the sales rep each time a partner sells a deal the field rep could have sold direct. Fix your comp neutrality.
Do what you say you will. Consistent follow-through builds loyalty.
Set up a "pitch and catch" scenario with solution providers where each of you are playing a unique role in the sales and services cycle instead of in redundant and conflicting activities.