Shifting to a cloud or subscription model is a tough multi-year journey that requires changes across every department. Often the new business blooms alongside the traditional business to keep revenues flowing.

Is revenue the only performance metric?
Even if cloud revenues aren't growing at the pace vendors or solution providers would like, revenues aren't the only measure of engagement and performance. At the end of the day, if the activities and actions aren't producing revenues the business will fail. However, the IT channel is in a transitional period and there are steps to building a solid foundation in the new cloud world that don't immediately produce revenues.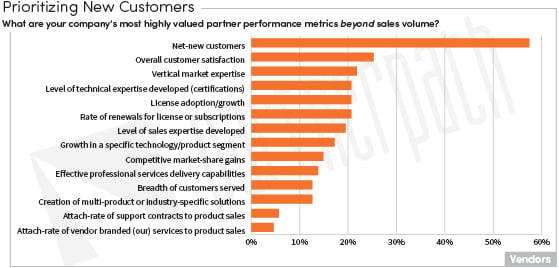 When we remove sales volume from the equation, it's not surprising 'net new customers' out-paces all other options as the highest-rated partner performance expectation. [As ranked by the responses in our 2019 State of Partnering study.] Although a new customer might not yet produce significant revenues for a vendor, the opportunity of growing a new account is very exciting and thus a highly-valued contribution from channel partners.
The vendor respondents* selected 'overall customer satisfaction' a distant second. It's very encouraging the vendors realize their solution provider ecosystem can greatly affect the end customer's level of satisfaction. The next generation of vendor programs should require high customer satisfaction scores from partners to rise within the program ranks. That calls for two changes to the current programs. First, customer satisfaction is a program requirement and second, it is accurately measured and tracked, which is not an easy task.
It's also worth highlighting the increased importance of the vertical market expertise performance metric in the vendor responses. It's the third most-valued partner performance metric by vendors but strangely, the vendors ranked 'developing a vertical solution or vertical selling approach' dead last of the areas they feel channel partners have the greatest need for enablement. How can it be the third most valued partner performance metric yet the partners don't need any enablement? As vendors measure partners on this metric in the coming years, hopefully we will see more enablement around vertical market opportunities from either the vendors or industry communities like CompTIA.

How do vendors measure cloud success?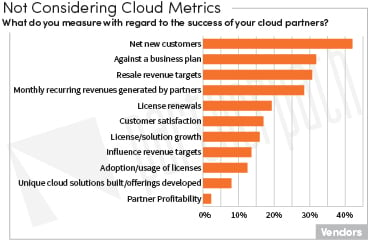 When we focus the vendor measurements of partner performance on cloud success, 'net new customers' once again tops the vendor respondents' preferences. We hoped the cloud-focused metrics of monthly recurring revenues, license renewals, license growth and customer satisfaction would be more highly rated performance measures. The vendors rated monthly recurring revenues (MRR) the highest four years ago. And MRR is the top measurement of the solution providers' own cloud success. The vendors are missing an opportunity to embrace the evolution to cloud models when they continue to measure their partners' cloud success like they measure traditional resale performance. If vendors prioritize new customers over license growth, renewals or customer satisfaction, partners are going to continue to put efforts on landing customers instead of shifting into the full customer lifecycle behaviors required in a cloud model.
And if that's not concerning enough, the most disappointing finding is the metric of partner profitability coming dead-last. Less than 5% of the vendor respondents cared about the partners' profitability in cloud. Oh, come on! There won't be a solution provider community if they are not profitable in their cloud endeavors. Vendors want the partner ecosystem to evolve so the channel can successfully market, sell and support cloud-delivered solutions, but vendors aren't measuring and don't care if the partners are profitable with cloud. Ugh.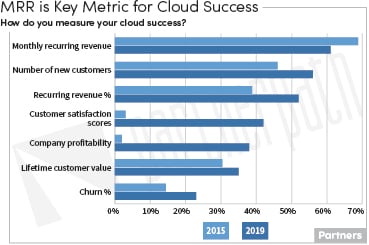 The solution provider measurements of their own cloud success are a bit more enlightened. Though not way more enlightened as net new customers is ranked a close second to monthly recurring revenue (MRR). Four years ago, monthly recurring revenue far outpaced all other success metrics for the solution provider respondents. Company profitability and customer satisfaction barely registered within their concerns. Now the top five solution provider cloud metrics are all very close in response rate. The top three positions held by MRR, new customers and recurring revenue remain consistent from four years ago. The solution providers we talked with are now measuring their customer satisfaction score as more vendors require reporting on these scores to rise in the program levels. And company profitability jumped up from dead last four years ago to round out the top five. With cloud sales becoming a significant percentage of overall revenues, the solution providers need to pay attention to the profitability of that business.

Is the industry evolving to embrace customer experience?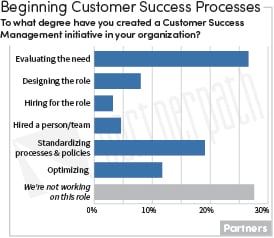 The two key cloud metrics of lifetime customer value and churn rate need to increase in importance. Although it takes years of data to effectively measure these areas, they are key to evolving from evaluating customer satisfaction (a lagging indicator of performance) to ensuring customer success (a leading indicator of future growth).
There are thousands of books extolling the benefits of managing the customer lifecycle to drive customer success which in turn improves customer lifetime value (CLTV) for the company. But the transition to cloud-delivered solutions means customers can more easily switch products or providers. Ensuring customers are using the technology and growing their purchases becomes the key contributor to profitability.
About half of the solution provider respondents are in some stage of implementing a customer success management initiative with another quarter evaluating the need. This is one area where vendors can increase the education and training they provide to partners. Industry leaders like Cisco are converting their partner programs to focus on customer experience and customer success. Cisco has created a customer experience specialization with incentives that encourage partners to drive adoption and support customer business outcomes. They also have created incentives for incremental bookings that result from license adoption and have announced an incentive to drive partners to renew their customer licenses on time. All this is supported by Cisco's Success Hub – an online platform housing training and whitepapers to help partners learn lifecycle processes. Gartner says that by the year 2020, customer experience is going to be the most important differentiator.
What to Do: Measure Differently
Measure your partners' success on cloud metrics like monthly recurring revenue, renewals, churn rate and license growth.
Define processes and policies in place to accurately manage and track customer satisfaction.
*This blog is an excerpt from the PartnerPath 2019 State of Partnering report: Driving Cloud Adoption using data gathered from 100+ vendors and 200+ partners in our annual State of Partnering study. More excerpts will be published in coming months. Be sure to subscribe to our blog below!