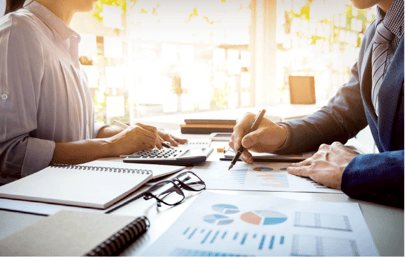 In this year's State of Partnering study, we asked partners the six primary elements affecting their experience with vendors. These elements sorted into six pillars, with program policies coming in fifth. Your policies have less effect on partner experience than you may think. As channel enthusiasts and experts, we get very excited about the details of partner programs. While these elements are not unimportant, but they're mostly transparent to partners.
Take a look at our full report and you'll see again and again, in several pillars, services and support programs are critical to partner experience. Partners again ranked it at the top. We cannot say it enough, partners' pain points and growth opportunities in the future cloud will revolve around designing and delivering services to end customers.
Deal registration and co-marketing are important to partner experience but if a vendor has good policies in place, the specifics don't significantly change their experience. Partners are adaptable and can live within the vendor's program structure if policies are clearly communicated and consistently executed (which harkens back to the people, enablement and infrastructure pillars).
However, we expected the vendor policies of directly communicating or transacting with the customer to be stronger factors in partner experience. But from our conversations with channel partners, these elements are not big issues when supported by good coordination and collaboration facilitated through PRM systems.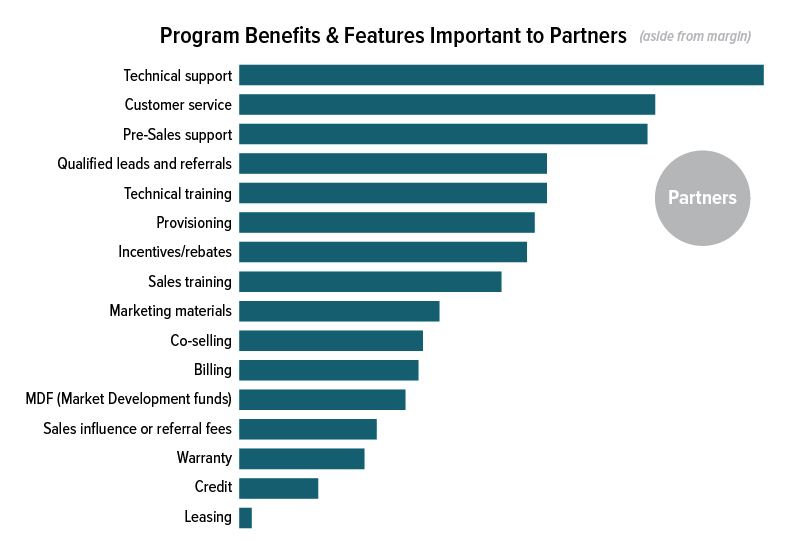 When we asked the partners what program elements (other than margin!) are important to their decision to work with a specific vendor, we could have predicted the results (considering the ongoing theme in this report of services and support). However, the top three might be a surprise to vendors. Technical support, customer service and pre-sales technical support were the top three program elements the partners cared about (again, other than margin). With … wait for it … quality leads following behind the three service and support options. It will be a red-letter day when we talk to a partner who doesn't ask for more 'Glengarry' leads.
Vendor responses vary.
As we drill into the details of the vendor responses on program elements there are several disconnects between the partners' priorities of services and support and the vendors' offerings. Most of the vendors reported that partners sell their own support offerings and/or resell vendor-branded support. Then it was a virtual tie between partners leading the professional services engagements or sub-contracting to vendors as many vendors have both options for their partner ecosystem. The partners make much of their margin (not necessarily the majority of their revenues) through services and support. Take a look at all the evidence throughout the pillars in this report.
The challenge is that many of the vendors expect partners to be certified to offer even their own professional services around the vendor's products. What right do vendors have in dictating what qualifications a partner needs for offering their own services and support to their end customer?
Though the partner responses didn't rank it as affecting their experience with a vendor, we were concerned over how much the vendor respondents connect directly with customers. On one hand, social media has allowed vendors to continue to get closer to customers. On the other hand, leveraging channel partners for lead generation, sales, fulfillment, services and support distances the vendor from the customer almost by design. The partner is expected to engage the customer through the sales and services cycle.
The majority of the vendor respondents were engaging directly with customers across the board – from maintaining regular communications (other than just for support issues) to driving upsell and cross-sell to tracking and managing the customer renewals. We are a firm believer in ensuring customer success and many of these engagement points should be left to partners.
Want more details on how vendors are running their deal registration programs? How they're spending on MDF and rebates? Get more data and more details in the State of Partnering report.