6 Ways to Adapt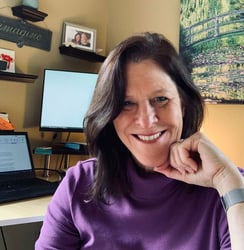 As an extrovert, today's milestone of one month stuck at home is particularly traumatic. The San Francisco Bay Area was among the first to receive orders to Shelter in Place, and I'm going a little crazy. To distract myself from missing large gatherings (or any gatherings), I've been pondering: how is the COVID-19 pandemic affecting the solution provider ecosystem and the vendors that rely on indirect channels?
More specifically: how does social distancing affect the six buyer trends presented in our 2020 State of Partnering Study? Not only do all six of these trends hold true, but several are accelerating due to changes in how we interact and the impact on the global economy.
Customers are expecting business outcomes. Channel partners that produce outcomes for their customers can survive the changes and thrive. They will remain relevant by understanding customers' business needs (like optimizing productivity) and aligning their marketing and messaging to address those needs.
• Technology vendors can help by enabling their channel partners to develop specializations that specifically speak to a customer's unique business model and needs. For example, a small retailer not yet transacting online has different needs than a regional medical facility. Even in these trying times, they both have needs that can be addressed by technology solutions.
Technology solutions are often complex requiring alignment of hardware, software and services from multiple vendors. Putting together these solutions is where the channel shines! Designing and delivering complex solutions requires solution providers to work together for access to products and/or vertical business knowledge.
• Vendors can help streamline the solution design process by fostering partner-to-partner relationships and validating the interoperability of other third-party software and hardware products.
Line-of-business buyers are emerging. People in marketing, sales, operations, finance, HR and partnering roles still have budgets (albeit WAY smaller). The shrinking budgets and resources caused by the pandemic requires people to do more with less. Channel partners have the opportunity to help these line-of-business buyers with technology solutions that increase productivity by automating and streamlining processes.
• Vendors can accelerate their channel partners' success through line-of-business sales training and offering flexible programs with financial models for various partner types.
Customers are purchasing as a subscription. Trends related to digital interactions will accelerate in these unprecedented times. Purchasing as a subscription instead of a large capital expense makes sense as budgets tighten and uncertainty abounds. To weather this shift in purchasing motions, channel partners can intensify their customer success initiatives. By ensuring customers use the technology solutions they purchase, channel partners are increasing loyalty to their services, the overall solution and the associated vendor products.
• Vendors can help encourage customer success priorities by educating and rewarding their partner ecosystem for post-closed-won activities such as usage, expansion and renewal.
Customers are researching online. Instead of meeting face-to-face with their trusted advisors, or even face to camera, more buyers are starting with a Google search to learn about products and solutions to help them address their business demands. Savvy channel partners need to immediately make a push into digital marketing activities to be present where customers are learning and acquiring advice (or perhaps where they're watching cat videos).
• Vendors can motivate a move to digital marketing by altering the funding levels to incent specific marketing activities in their co-marketing programs.
Customers are transacting online. As we all hunker down at home, even business buyers are forced to shopping online. True, they may buy direct from a vendor or through a marketplace and I'm not advocating channel partners throw up an online store. Instead, they should double down on consulting, business process change, provisioning, implementation, management, optimization and analysis services.
• Vendors can help ensure partner success and livelihood by getting out of the way of a services play. While vendors make huge margins on the product sale, services are what drive the lion's share of a partner's profitability. The channel needs to make money on the services around the products – designing, recommending and implementing a full complex solution to the customers business need.
This pandemic has thrown global markets into chaos and uncertainty. Moving quickly to adopt change will help the channel survive this time of turmoil. Like many of the changes we are now experiencing, these trends will outlive COVID-19. Investments today will continue to pay off in the future.
I hope this blog finds you and your family well. Take care,
Diane Krakora is CEO of PartnerPath with two decades of experience defining the best practices and frameworks around how to develop and manage partnerships.