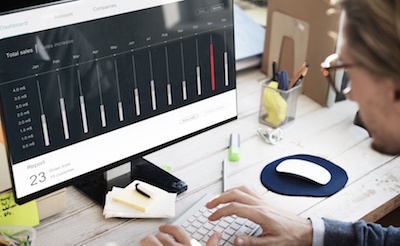 By Diane Krakora, CEO of PartnerPath
In my last blog post I shared findings from some of the data presented in our January 2017 State of Partnering webinar and the factors contributing to the very slow progress of cloud for vendors. I used a seemingly slow football clock as an analogy for how long it can take for a play (cloud) to finish, and now I feel the analogy has even more layers. (Just ask the Boston Patriots how much can be accomplished in the final minutes of a game.) But there's more than one side to the cloud conversation. Our State of Partnering study also revealed some interesting findings from solution providers who took the survey.
With Lynn Haber, senior editor of Channel Partners (our media partner for the survey), and Leonard Iventosch, vice president of worldwide channels at Nimble Storage, joining me on the webinar, we took a deeper look at some of the data from solution provider responses. How are partner businesses evolving?
Finding #1: Twenty percent of solution provider respondents had more than 50 percent of their 2016 sales coming from cloud solutions – an increase over 2015, when there were 12 percent.
Lynn: I don't think at this point we will see a huge spike in the number of partners getting larger percentages of revenue from the cloud. But those new partner types – those with their foundation of business built on cloud — I am sure [they] are having the greatest momentum in building business in the cloud.
Leonard: I think the growth we're seeing is with the born-in-the-cloud providers. Trying to figure out how to monetize cloud is difficult for vendors and partners alike. The strategy I'm seeing being employed by successful solution providers deployed is to go in [to a customer site], still be a trusted adviser [and] have a conversation about which workloads should stay on-premises, which workloads should be in the cloud, what is the hybrid cloud strategy, and then build services around that to help. You'll see the numbers come up over time by doing that, but they are still struggling around how they get paid by vendors, cloud providers, etc. If you can sell cloud in a cap-ex model, that will be the preferred method for a long time.
Vendors are behaving the same way—they would rather do an on-premises solution and get paid 30 days later rather than get paid over the life of the contract. The interest of partner and vendor sales rep often are aligned, but not aligned toward the cloud.
Finding #2: A full 88 percent of solution provider respondents indicated it was likely or very likely they would increase their investment in cloud over the coming year.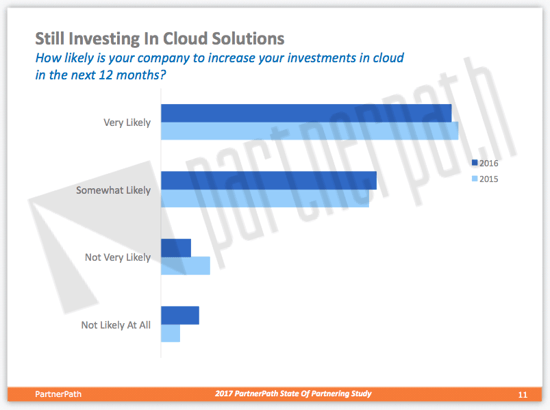 Lynn: What's interesting is where they are making their investments in the cloud. Many are forming new vendor partner alliances. There is definitely more momentum that partners know this is something they have to do. In some cases, they are forming lines of business to have staff upping its expertise. I still think there is a lot of thinking about how they're going to wrap business around cloud and become integral part of what they're going to do. They're more entrenched in the notion of cloud and how it's going to be in their business. I'm also seeing solution providers are definitely separating: those who are moving ahead from those who are not investing in the cloud.
Leonard: As vendors, it's our responsibility to keep our partner ecosystems healthy, so we should accommodate the shift that's taking place anyway (and help partners).
Finding #3: Twenty-five percent of solution providers indicated more than half of their sales for 2016 came from activities they were not involved in two years ago (specifically, line of business sales and developing in-house innovation).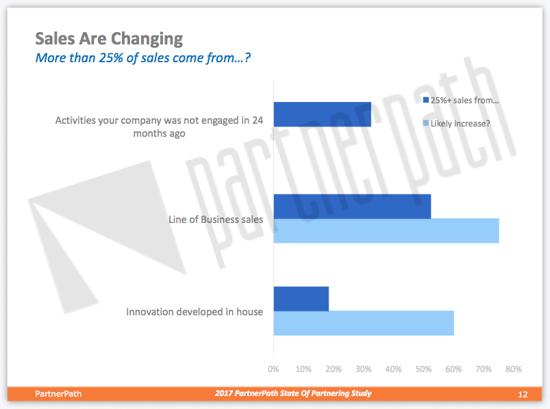 Lynn: IT has risen to the top because that's where the value-add is and that's what the partners are all about. Clearly there are a lot of solution providers who are listening to what their vendor partners are saying and they understand the direction of the industry and what their customers are going to need to transition their business.
Leonard: The reality is the incompetence and the inefficiencies around CIOs and their IT staff is what led to, in large part, the cloud, but also sales to lines of business. When lines of business go to IT and say they need to bring up a workflow and are told it will take six months to a year, they go do it themselves. And that's good news for earlier stage companies.
Finding #4: Services now make up the bulk of solution providers' business—or so they believe. A little more than 40 percent of the solution provider respondents classify themselves as IT consultants, while 40 percent describe themselves as an Agent. And 33 percent claim to be offering managed services.
Leonard: I think this number reflects the aspirations of partners rather than reality. They want to think of themselves as the trusted adviser and the consultant maybe more than they are. But that said, the trend is very much toward services-led businesses for our solution providers; solution providers are putting themselves in a position to transition toward the cloud.
Lynn: I believe partners using these labels to set a stake in the ground and are pulling toward it. They could be using these labels to identify themselves, but if they don't have the expertise to back it up, they will get into trouble. But partners realize that being a consultant is key to their business.
Some of these findings are more earth-shaking than others. But taken together, they show a slower than expected move to the cloud. But slow or not, both vendors and solution providers are making changes. Echoing what Lynn said: We are still going to be having a lot of conversations about cloud.

Diane Krakora is CEO of PartnerPath with two decades of experience defining the best practices and frameworks around how to develop and manage partnerships.