What mistakes are vendors making with their partner ecosystem?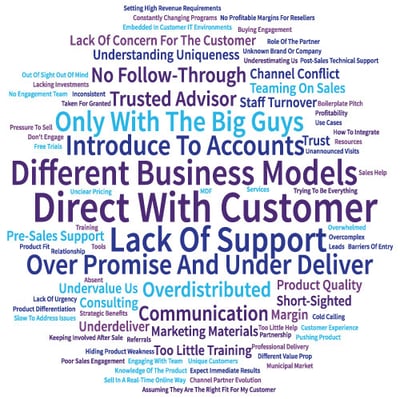 A major data point driving home MAKE FEWER MISTAKES is the list of open-responses from partners* detailing mistakes vendors make as they are engaging a solution provider organization. Direct from partners, the submissions center around three themes again this year:
1) Not understanding the partner business model
"They think all partners are the same business model and they think we are all there to just hand over leads to direct reps."
"Cloud vendors don't understand partners that are embedded in customer IT environments."
"Not valuing the consulting aspect of our business model that makes us an advocate for our clients."
"The main perception is that vendors just want partners to sign. They do little homework on the partner."
"A lack of knowledge/sensitivity to the differentiators we offer, and how to optimize them."
2) Too little relationship
"They expect us to introduce them to all of our accounts, quickly. They do not build up trust first, or they do not try to build up any faith within our company in their product."
"Setting high revenue requirements or other barriers of entry to partner programs."
"Over-promising and under-delivering sales, technical and installation support."
"Expecting immediate results. It takes time to do all the training, marketing, etc."
"Trying to hook us with a Spiff. It's not about Spiff for us it's about customer experience."
3) Conflict and competition
"Direct sales at same price as through distributors."
"Not consulting us on how to interact with our clients during sales/implementation processes."
"Direct sales to End Users, Customers, instead of referring them to a Sales Partner!"
"Having a direct arm where they can compete with us."
What to Do: Develop partnerships not just relationships
Educate your internal teams on the variety of partner business models – how your partners make money, what customers they serve and which services they offer.
Develop rules of engagement to minimize conflict between direct teams and your channel partners – particularly around services. Set up a 'pitch and catch' so you're collaborating instead of competing.
Under-promise and over-deliver – do more, faster than you said you would. Partners are making multi-year investments based on your promises to them. Do what you say you're going to do.

*This blog is an excerpt from the PartnerPath 2019 State of Partnering report: Driving Cloud Adoption using data gathered from 100+ vendors and 200+ partners in our annual State of Partnering study. More excerpts will be published in coming months. Be sure to subscribe to our blog below!