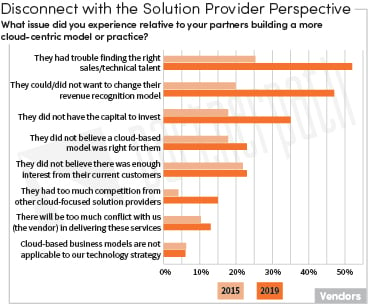 Focusing on customer experience and success is one way to support the solution providers' evolution to cloud-based business models. There are a host of other barriers to their transition and the survey results show a bit of a disconnect between the vendor and the solution provider perceptions. Finding, training and retaining top talent has always been a barrier to growth for solution providers (or any company for that matter). The vendors* cited this reason the most for the solution providers struggles in growing their cloud models, but it was ranked third by the solution provider respondents. Not wanting to change their business model was the second-most cited reason by the vendors. Moving the model is tough, but there is little doubt of the solution providers' desires to do so. This issue didn't even make the top five barriers to transition ranked by the solution providers.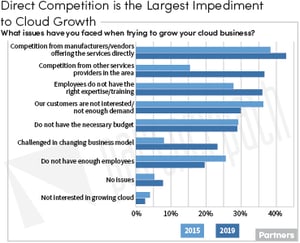 However, competition from vendors who offer cloud services directly was the top-cited barrier for the solution providers in 2015 and again for 2019. This has been a huge disconnect for the last four years as vendors ranked it second to last in both studies. Competition seems to be on the solution providers' minds this year. Competition from peers jumped up to the second-most selected answer. In just four years, peer competition rose from one of the least-concerning roadblocks to growing a cloud-based business to the second-highest issue. In a young and quickly growing market (per IDC and Gartner), it's concerning to see competition from peers so highly rated as a barrier to additional cloud growth. The solution providers we speak to say they're seeing competition from all corners of the globe these days, not just their typical regional competitors. As the solution providers change their business models – from products they carry, solutions they design, applications they develop and micro-vertical segments they target – they should be able to produce significant differentiation from their peers and thus reduce this competitive threat.

Are vendors helping the transition?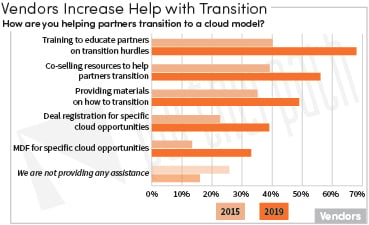 The number of vendors helping partners transition to cloud models has grown in the last four years. Almost a third of all vendor respondents weren't helping partners transition at all in 2015. In this year's study, that number is cut in half – only about 15% of the vendors aren't helping partners transition to cloud models. Two of the top three cited activities for the vendors are focused on partner education – training on the transition hurdles and providing materials on how to transition. After more than a decade of industry focus on cloud models, with every analyst and industry publication talking about cloud models nonstop, partners know the hurdles. Sheesh. Take the investments from both of those education efforts and move it to action-oriented activities. Put those resources into co-selling with the partners and MDF for creating digital marketing campaigns that produce leads for partners' differentiated solutions.
What to Do: Drive Your Partners' Transition to Cloud
Restructure your partner program level progression requirements (how partners move up from Silver to Gold levels), to include options that don't include revenues. Some next-generation partners might not manage the transaction and thus not visibly produce revenues.
Assess your partners' readiness and ability to engage in cloud – segment and engage your ecosystem for cloud leaders and laggards.
*This blog is an excerpt from the PartnerPath 2019 State of Partnering report: Driving Cloud Adoption using data gathered from 100+ vendors and 200+ partners in our annual State of Partnering study. More excerpts will be published in coming months. Be sure to subscribe to our blog below!