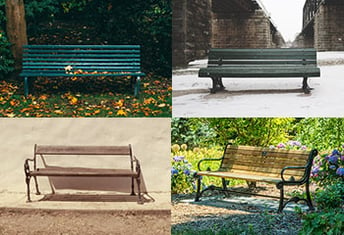 We've all heard this question thrown around in meetings, video calls and Slack chats. Whether you're discussing ROI, KPIs, MDF or G.O.A.T., folks always want to know how they compare to the other gal. The partnering world is no exception. Knowing what your channel competitors and compatriots are doing with their partner programs may help guide your own programs.
Every fall we conduct a State of Partnering study to track the trends and capture new insights about channel partner programs in the tech industry. We love data, and the ability to track changes over 13+ years is powerful. In 2018, this data led to an 18-page report all about "Partner Program Benchmark Data." You should download the report (and of course obsess about how you stack up) but if you prefer small bites of content, stay tuned for our blog series highlighting some of the benchmark data.
To whet your appetite, here's a glance at some of the content you will find in the report and later in this series:
Six Channel Trends to Watch (and what to do)
Conflict over services. Create deal registration for services similar to product deal registration. Each party must prove their influence and value in the services opportunity.
Shift to digital marketing. Create digital marketing workshops to help partners adopt new techniques. The better your partners are at positioning their (and your) solutions through digital means, the more successful they (and you) will be.
Different types of partners. Create your programs and models around the role partners play (influence, refer, consult, resell, build, bundle, etc.) instead of by the label or type of partner (Reseller, MSP, SI, etc.).
Individualized enablement. Create enablement options based on the role the partner plays and allow them to select which are relevant to their business models. Invest in new, better, partner management systems to manage these individualized engagement models.
A resurgence of communities. Develop a community forum for a wide variety of partners (#3) and individuals (#4) and stoke it with content and collaboration opportunities.
Lifecycle selling. Create enablement, incentives and management activities to get partners to invest in customer success practices to ensure your technology solutions are adopted and consumed.
The growing importance of partners including how partners classify themselves and how you should measure and communicate channel growth within your company.
Continuing cloud adoption featuring data on: cloud revenue growing as part of overall revenue, how partners contribute to cloud revenue and how cloud revenue is growing as part of partners' business.
Finding the right kind of partners for your business as the industry changes and partner business models change along with it. (We offer tips on how to always be recruiting!)
A full breakdown of data on all the sexy program elements like enablement, training and certification, co-marketing and distribution. Plus an overview of what vendors measure and what partners consider important rounds out the data.
A look at where vendors are investing across the various program elements and how you can make investments to ensure partner profitability.
And finally, what are (still) the primary mistakes vendors are making and how can they be avoided or dealt with.
Sound good? Like charts? Need a blog break once a week? Stay tuned for all this great content. We're ready to give you data to build best practices, move the needle, enhance your partner ecosystem, create action items, and all that other wonderful stuff.