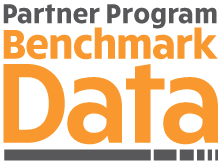 No matter the product or solution, all companies must perform marketing activities and so must their partners. How are vendors helping their partners create successful marketing campaigns and how do co-marketing activities function? The answers vary from company to company and year to year. Take a look at the trends emerging from 2017 and evaluate whether any changes to your partner marketing processes might be beneficial in 2018 and beyond.
Take a look at this excerpt from our 2018 State of Partnering report and check out our 2018 survey data* on marketing program elements. How do you stack up to other vendors?
Fund your Co-Marketing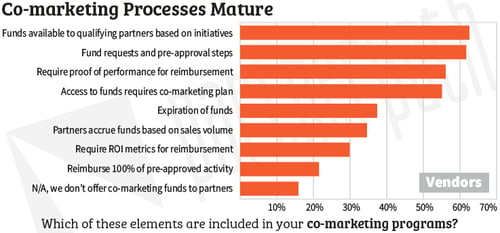 Did you know more vendors offer co-marketing funds than deal registration! 84% of the vendors offer money to their partners to execute marketing activities compared with only 66% that allow partners to indicate they are actively working an opportunity through a registration process. We are delighted to learn almost twice as many of the vendors offer these funds on an initiative-based process rather than from accruals based on sales volume. The old co-op programs that were popular in the 1990s, where resellers earned marketing funds as a percentage of their sales volume, are slowly disappearing. These entitlement policies are giving way to more modern processes of providing funding to partners that create joint marketing plans and get pre-approval for specific initiatives.
The requirement for solution providers to provide ROI metrics to receive reimbursement is growing. 30% of the vendors indicted this was a requirement this year, up from 22% in last year's study. The proliferation of marketing automation solutions like HubSpot and the use of marketing concierge services makes it easier for vendors to track ROI and for solution providers to provide the measurements. For example, SAP leverages the Averetek solution to provide a one-stop shop for their solution providers to access marketing assets, execute campaigns, gain insights into potential-customer buying processes and measure ROI. SAP also offers qualified partners access to the Averetek partner marketing resources to act as a virtual marketing agency. These programs help drive increased awareness and success of SAP offerings in the small and mid-sized enterprises. Just ask Meaghan Sullivan, Vice President of Global SME & Partner Marketing at SAP.
Sadly, only about 20% of the vendors reimburse 100% of the pre-approved activity. With the expected increase in MDF funds (which you'll see in the next section), we hope more vendors use those additional funds to cover the complete costs of their partners' co-marketing activities. One way to prioritize the use of limited funds is to increase the reimbursement amount for partners that consistently prove a high ROI for their marketing activities. Another idea is to pay 100% of the cost of solution providers' digital marketing activities, as partners need this type of boost to get them to adopt new mediums.
What co-marketing elements do you offer your partners? Which are the most successful? Let us know by leaving a comment below.
---
*For 2018, our annual State of Partnering study surveyed 114 vendors and 220 solution providers on the continued adoption of cloud-based solutions, the effects on the growth of the channel ecosystem, program priorities and investments. Download the full report here.