In our recent channel chief roundtable the Partner Engagement Lifecycle was one of the many topics we attempted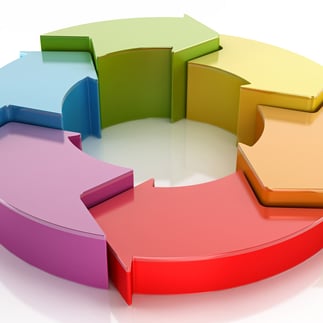 to tackle and wrestle to the ground. Our goal was to collaborate across the 15 channel chiefs in the room – from Google, SAP, IBM, Westcon, Cylance, Avaya, F5 Networks, DocuSign and additional well-recognized companies – to develop some answers or at least establish best practices across several areas.
Changing Buyers Journey
The changing customer buying journey ignited this topic at the roundtable. End customer are changing the way they research and buy products. Traditionally customers started with a large consideration set and methodically reduced that number to make a purchase decision. In this traditional funnel model as marketers use advertising, direct mail and even (gasp!) telemarketing to push customers through each stage. Over the past 5 years this funnel approach has given way to a circular journey. Customers (or future customers) move forward and backward, and often non-linearly, through initial consideration, active evaluation, purchase and adoption, or what we at PartnerPath call experience. Customers control their own process, actively pull information, widely from digital means, to help them make decisions.
Two points relative to channel partner ecosystems stemmed from this discussion on the buyers journey
The vendors expect channel partners to adopt new digital marketing methods to engage their prospects
Vendors need to change the way we are engaging and influencing channel partners through a circular journey. The partner relationship doesn't end with the transaction
Our blog on Building a Customer for Life addresses point 1 above and even includes an infographic detailing the buyers' journey. We want to take the customer lifecycle approach and wrap it into developing and enhancing our channel partnerships. Because doesn't "Partner for Life" sound awesome?
Step 1: Funnel Is Dead
The first step to creating a partner engagement structure that aligns with the shifting customer journey is to realize that the funnel is dead. The end goal of your partner engagement is not getting them signed. Or even having them sell a deal. That's just the beginning of the relationship with your partner – as signing a customer is just the beginning of the overall customer relationship. If you are measuring your partner ecosystem success by how many partners you've signed – and we know MANY of you are – then we'd encourage you to adopt new metrics. Even sales volume is a better metric than number of partners signed. But best yet would be value added metrics like customer adoption or customer satisfaction for a measure of your partner ecosystem performance.
Step 2: Develop A Lifecycle
The trick is to develop a lifecycle that works for you – your business, your products, your investment in partnering and your history. We've seen (and created) dozens of partner lifecycles and one thing is for sure – they are not one size fits all. We've seen all shapes and sizes, from the very basic: Recruit, Ramp, Review to more sophisticated models such as Recruit, Market, Sell, Measure or one we've employed in our own partnering ecosystem: Attract, Engage, Educate, Motivate, Support, Manage.
The appropriate lifecycle for you greatly depends on the maturity of your channels. The more mature your partnering models, the more nuanced your lifecycle becomes. No matter if you choose a three step or twelve step lifecycle, you should have specific actions, materials and content for the partners and metrics behind each stage. Answer how a partner progresses from stage to stage by defining the exit and entry criteria. When is a partner done with the Recruit stage and moving into Ramping? Remember, it is not a funnel – you don't end with Managing a partner. It is a cycle, you continue to attract or recruit your partners over and over again.
Step 3: Create Content & Communications
Your partner engagement lifecycle should be a rally point for your entire company. Everyone should know the partner lifecycle and the major activities, content, metrics and exit points of each stage. To make your partner lifecycle this ubiquitous, put a cool design around it. Get your marketing team involved and get creative. Not overly complicated, but a nice circular design aligned with your stages, corporate colors and general theme and company culture/tone.
Next you'll want to put a story around it. Use a real or even a made up example of the partners' journey at each stage. Describe what the partner characteristics are, how they're engaging with your content and team and what success is at each step. The more you can paint a vision of the engagement lifecycle, the more likely your organization is to adopt and use it.
And lastly, get it out there! Push your lifecycle graphic and story through all your social media outlets. Share it in webinars. Include it in the main stage presentation at your SKO and partner summit. Consistent communication is one way to help change behaviors.
As one of the roundtable participants summed up after our lengthy discussion on the partner lifecycle "Everything [here] is built to manage a transactional business that starts and ends… the real problem is the that metrics are wrong… we need to educate the leadership at the top and change the perceived value of the partners and all the things that matter in the cyclical world"
How are you engaging and empowering partners in a cyclical world? Share your stories!

Diane Krakora is CEO of PartnerPath with two decades of experience defining the best practices and frameworks around how to develop and manage partnerships.