It's no surprise the cloud has impacted every facet of the IT space, from the way technology is built, sold and delivered to the way vendors and partners interact. It's also no surprise that the number of partners that have the ability to support a cloud-only business model is disappointingly low. That's why the question, "What is the role of partners in an increasingly cloud-focused world?" is being asked regularly—and often with different answers.
In our most recent webinar, "Resale vs. Referral – How is Cloud Changing Partner Roles?" we took the long view on partner—and vendor—positions in this new IT landscape to help both audiences understand where they need to be to succeed in the future.
We had two awesome panelists for the conversation: Chris Rimer, vice president Cloud Sales, North America Business Partners and Channels at IBM, and Ben Chodroff, chief technology officer, CloudOne. With the perspective of a stalwart technology vendor that's evolving its hardware/software business model to one of cloud and analytics and a born-in-the-cloud services provider—together with data from our most recent State of Partnering study—we were able to share some insight into where the cloud business is moving.
There is movement toward the cloud as nearly a third of vendor respondents saw 11-25% of their business coming from cloud solutions in 2015, which is an increase of 10% from the previous year. In contrast, almost half of the solution provider respondents see 11-25% coming from the cloud, up from 31% last year. Both Chris and Ben agree the cloud is moving faster, and it's tough keeping pace.
Business Challenges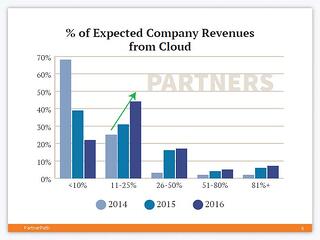 CloudOne, which sees 80% of its revenue from building cloud services, is feeling the pressure of the new model. "Our biggest challenge is finding the technical talent within our teams to ensure that we're keeping up," Ben said. "We want to build new offerings, and new offerings have new capabilities. New capabilities require people who can both understand how to architect those, as well as find ways to increase their efficiencies around it."
Chris, however, sees the struggle traditional partners are having with turning their business to focus solely—or, at least, mostly—on cloud.
"I meet with business partners all the time who say, 'I am absolutely all in on going to the cloud,' and then the reality is something very different," he said. "It always comes back to, 'Yeah, but what about that comp model for my reps?' and 'How are we going to get paid?' and, 'Where's the margin?'"
That, he said, is where the disconnect occurs.
"It's not up to us vendors to fund your (partners') evolution, because it's not us that did this to you," Chris noted. "This is a client-based metamorphosis of how we all do business."
In the hardware/software/services paradigm solution providers were conditioned to rely on vendors for help in moving their business to the next big business model, mostly because that new business model was fueled by the vendor's new technology. The cloud, however, is not one vendor's doing—it's a market-driven change.
And, it's very hard for these solution providers to go from being a services company that offers $100,000 projects to living off of $5 a month in terms of licenses.
The Role of Partners
The hard shift is that vendors have trained solution providers to rely on the vendor community as drivers of their business, rather than as an ingredient to a solution to a business need for their customers. So when the cloud model shakes up not only the way technology is consumed but also the way vendors are positioning themselves—not as drivers, in perhaps the first time ever—partners begin to question their role and even their relevance (and rightfully so).
Ben also agreed that partners have a critical role to play as the cloud continues to mature. And partnering with other partners will be a critical way of doing business.
"I think solution providers are absolutely necessary in the cloud world," Ben said. "There need to be others that we can partner with so that, when we don't have something that we directly can service, we can at least engage, potentially on their paper, on our paper, on the vendor's paper.
"We love seeing new partners coming into the space, because it helps fill in the gaps—both for the vendor, as well as for what the customer's looking for," he added.
Of course Chris agreed partners will remain a crucial player in the cloud world, and they have to understand where they can best add value. "Pure reselling, the pure transactional model, doesn't really apply in the same way that it has in the on-prem hardware infrastructure and software space," he said. "In its place is really a world where channel partners become a trusted advisor to the clients they serve.
"I think a lot of them like to think they're in that role, but let's not fool ourselves. If you're just handling a discount on something, that's very different than becoming part of the business," he added.
If there's one thing that is obvious, it's that there is no single answer to the question of the role partners will play in the cloud – they will play multiple roles, as will the vendors. Over the next year we hope to see more vendors clearly define which roles they would like partners to play and which roles they will address themselves.
Listen to the entire webinar recording and tell us what you think. Are your partners playing a new role in your cloud solutions?