The shift to cloud consumption models changes the channel's value.
Ten years ago, we had zero questions in our State of Partnering survey asking about cloud and last year, we devoted the study entirely to cloud. It's not a huge leap to say cloud is affecting every aspect of channel business today. Data shows that end-customers continue to adopt on-demand consumption models, driving a change in vendor and channel ecosystems alike.
Nearly 30% of vendor respondents in this year's State of Partnering study indicated one fourth of their business in 2015 came from cloud solutions. That's 10% more vendors indicating a significant portion of their overall business is from cloud. And 20% of vendor respondents indicated they expect half of their overall company revenues to come from cloud next year.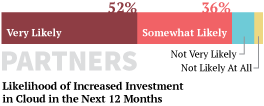 Solution providers also report an increased percentage of their business is coming from on-demand consumption models. 44% of solution provider respondents indicated cloud solutions were 11% to 25% of their business in 2015. That's up from only 31% in 2014. And a full 88% of the solution providers indicated their investment in cloud will increase in the next 12 months. This is a dramatic increase from just five years ago when only 20% of partners indicated it was likely they would increase their investment in cloud solutions. The previous wait-and-see attitude has been replaced by an expectation of ongoing and significant investment.
This continued shift to on-demand or subscription-based consumption models has a profound impact on the channels that define, develop and deliver solutions to end-customers. The need for channel partners (solution providers, consultants, system integrators, cloud aggregators, carriers – whatever you call them), is not going away. On the contrary, in the customer lifecycle that emerges with on-demand consumption models, third-party perspectives and trusted advisors play a significant and important role. According to Gartner, two thirds of the buyer's journey is devoted to internal assessments, peer networking, and the recommendations of external experts.
Employ other models than resale to engage a variety of organizations and individuals to address the complete customer lifecycle for cloud solutions.
This is the first look at our 2016 State of Partnering Report: 10 Trends for a 2020 Vision. Keep following our blog for more posts and invitation to join webinar discussions.